The Institution "Jawahar Vidyapeeth"
The Institution 'Jawahar Vidyapeeth' is situated in the back-ward belt of Mewar (Rajasthan) away from the polluted and noisy atmosphere of the town in the silent and serene surrounding of Nature.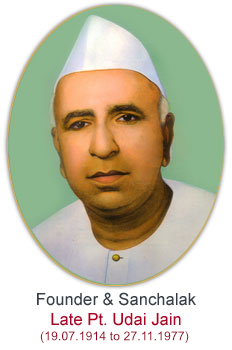 Mewar Malviya: Pt. Udai Jain

(Founder: Jawahar Vidyapeeth & Shree Jain Shikshan Sangh, Kanore, Raj.)
The day 19th July, 1914 was a bliss to Pratap Malji and Sabba Bai who gave birth to Pt. Udai Jain who not only pleased the family but also influenced and obliged the whole Nation by his commendable services in the field of Education.

This back-ward and Adiwasi belt of Rajasthan (Mewar) will always remember him for his Educational, Social and Literary services. Pt Udai Jain founded Jawahar Vidyapeeth on 24th October 1940. Later on he founded Shri Jain Shikshan Sangh (Jawahar Jain Hostel) in the year 1947.

Pt. Udai Jain went from one town to another through out the country demanding donation and co-operation from top to bottom level people at the cost of his pride, prestige and health for this Institution.

He was a great religious thinker and writer. "Veer Vibhuti" and his articles published from time to time in different Magazines show his philosophical and Religious Talent.

Freedom Fighter Pt. Udai Jain founded a branch of 'Praja Mandal' at Kanore in the year 1940 and took active part in 'Quit India Movement' 1942 and endured prison pain for many months.

Then the Governor of Karnataka Honorable Mohanlalji Sukhadia asked Pt. Udai Jain not to start College in this small town because of his heart being enlarged and lack of financial fund too. But Pt. Udai Jain said that he would prefer to die working for the cause of higher education for the poor and needy students of this back-ward and Adiwasi area and ultimately he started the College and received recognition and Grant from the Government of Rajasthan. Such was the Zeal and will power of Pt. Udai Jain.

27th Nov. 1977 was a dark-day in the History of Jawahar Vidyapeeth when Pt. Udai Jain left for heavenly abode and merged in the Universe flaming fire of knowledge, wisdom and service to the poor and needy and sowing seeds of sacrifice and devotion in the soil of this country. His Full size eight metalled statue with Fountains was unveiled by Shri S.L. Dugar. Kolkata

The general public of this area named the 'Degree College' 'Pt. Udai Jain College founded by him for which he struggled strongly and sacrified himself till death. Ceaseless efforts, strong determination and sanctified aim arose an humble man like Pt. Udai Jain to the top of the people who are remembered for their pious purpose and peaceful service bringing solace to the suffering Humanity. People like Pt. Udai Jain never die but remain alive for generations to come.

Kanore is Famous as Vidya Nagari "because of Jawahar Vidyapeeth & Jawahar Jain Hostel.